Are you looking for a term life insurance quote?
Tired of having to give away your personal contact information just to get one?
Though many sites force you to enter your name and other private details before giving you an accurate quote, they never deliver.
Your contact information is captured and distributed to whichever agents receive the leads from that online funnel. You may receive a call in a few days or weeks after your initial request—if you're contacted at all—yet you still won't have a real quote.
Finding term life insurance quotes doesn't have to be this frustrating. Fortunately, there's a better way:
You can get an anonymous online quote today—and we'll show you how in this free guide.
We'll also help you decide how to choose the right carrier to work with.
Our process is easy, intuitive, and can be completed entirely online from the comfort of your own home. You'll have complete control without ever having to deal with a pushy salesperson again.
» Compare: Term life insurance quotes
Since we don't work on commission, the quotes you receive are in your best interest, not ours.
If you're ready to get started, check out step 1.
Step 1: Find a Price That Fits Your Budget & Coverage Needs
You don't need to hand over your email address, name, or phone number to get a term life insurance quote.
Use this free calculator and you'll have an anonymous quote in minutes.
The accuracy of your quote depends on a few key pieces of information you'll need to share with us first. Don't worry, these have nothing to do with your contact information.
Here's what we need to know specifically: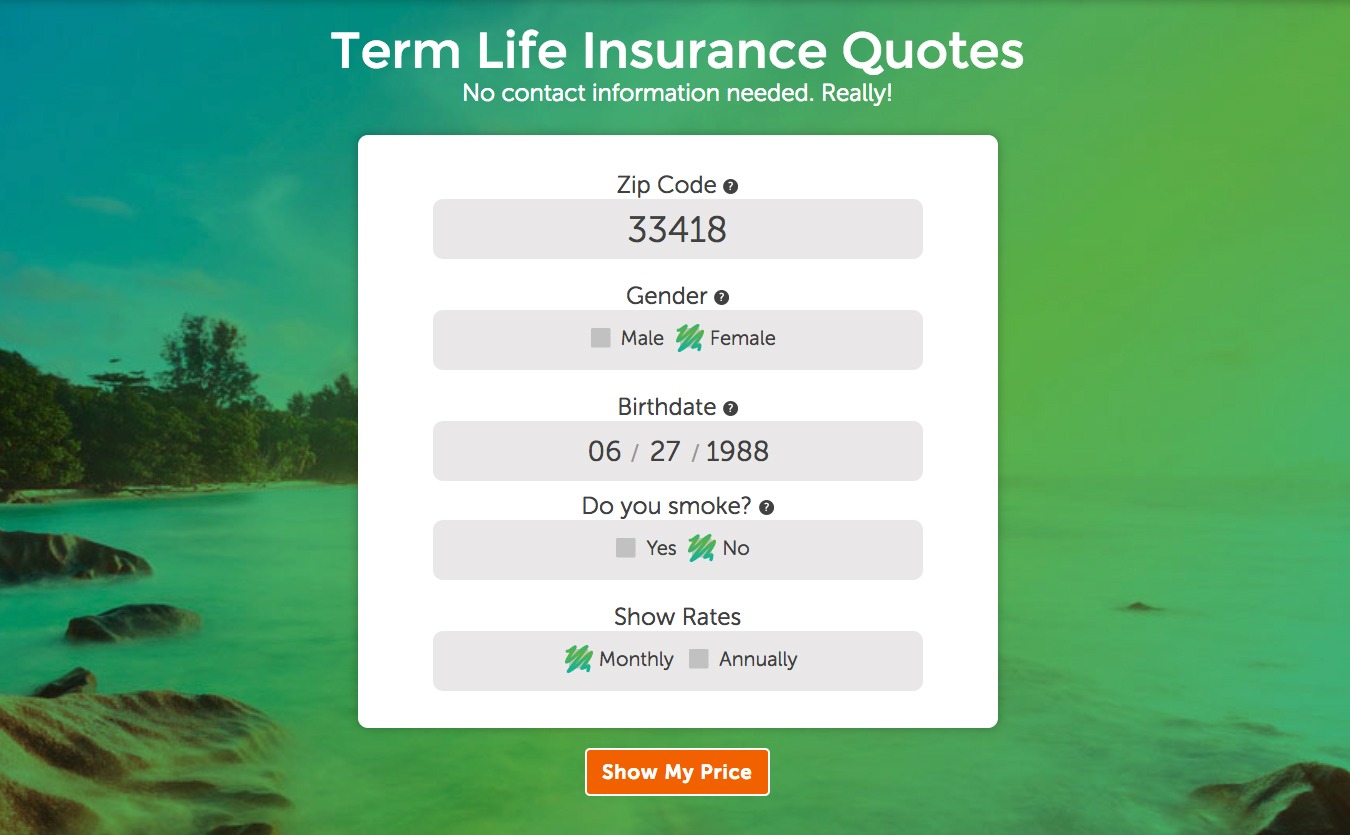 Your zip code. Insurance options vary by state so we'll need to know which city you live in to give you an accurate price quote (read: we do not need your address).
Your gender. Since women live longer than men (sorry, it's a fact!), their coverage is actually cheaper.
Do you smoke? It's no surprise that smoking affects longevity. If you're a smoker, expect to pay more for coverage.
Your date of birth. How old you are determines your price. See our saving age article to save money on your premium if you are close to your next birthday when you apply.
Once you enter this information, you'll be shown our super easy-to-use pricing slider.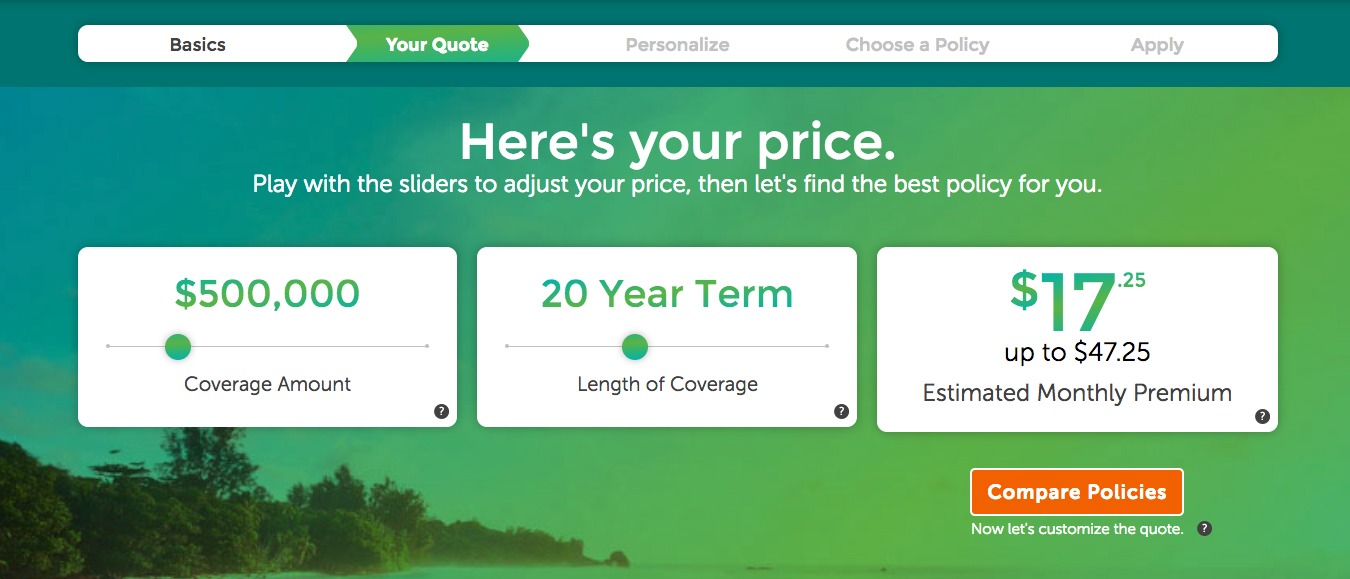 This scale gives you the ability to see the cost range from lowest to highest for policies.
Simply move the coverage amount and length of coverage sliders to see how the pricing varies when you change each one.
» Calculate: Life insurance needs calculator
In the example below, the coverage price of $58.30 is for a 29-year-old, non-smoking female living in 33418. This price includes a coverage amount of $1,000,000 for a period of 35 years.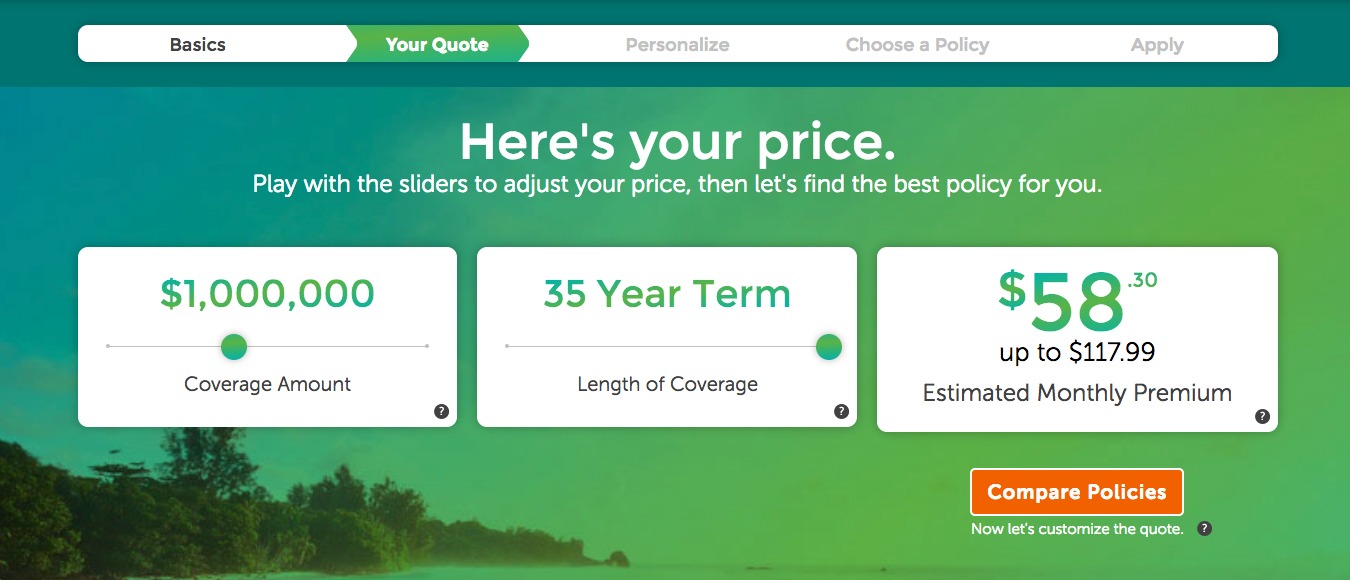 To reduce the monthly payment, this customer can lower their coverage amount to $350,000 to drop their premium cost to $26.43 per month.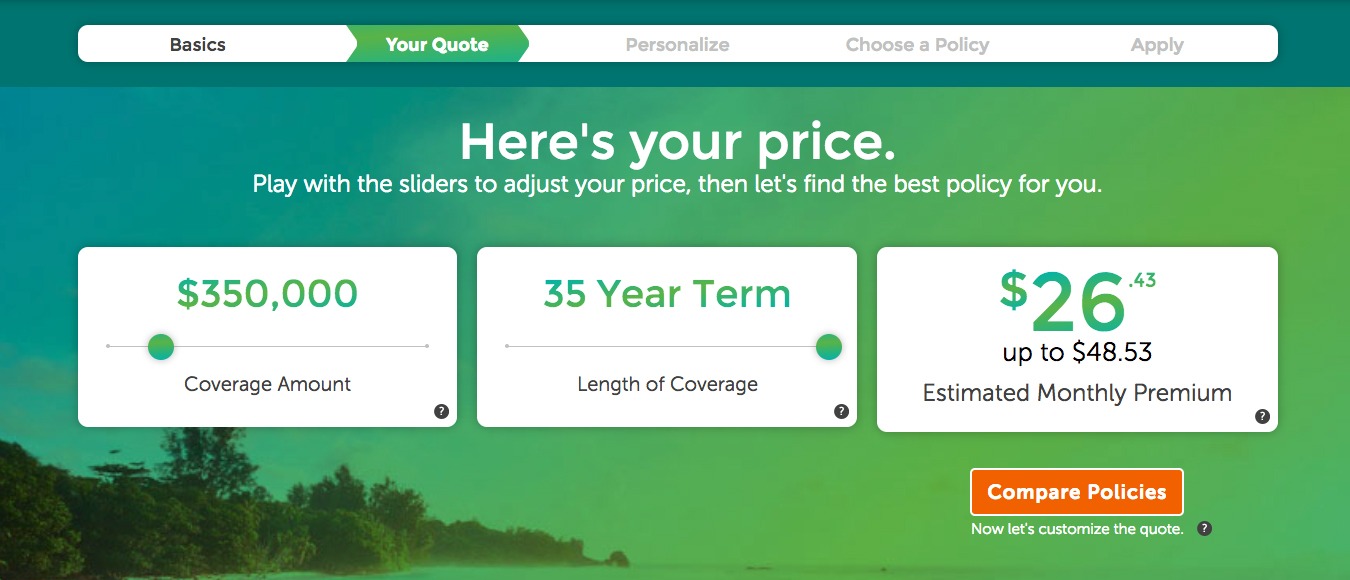 Dropping the term period can also decrease the monthly payment.
Below, you'll see that decreasing the coverage amount from $1,000,000 to $500,000, as well as dropping the term from 35 to 20 years, causes this monthly premium to decrease to almost a third of the original price (~$58 to ~$17.00 per month).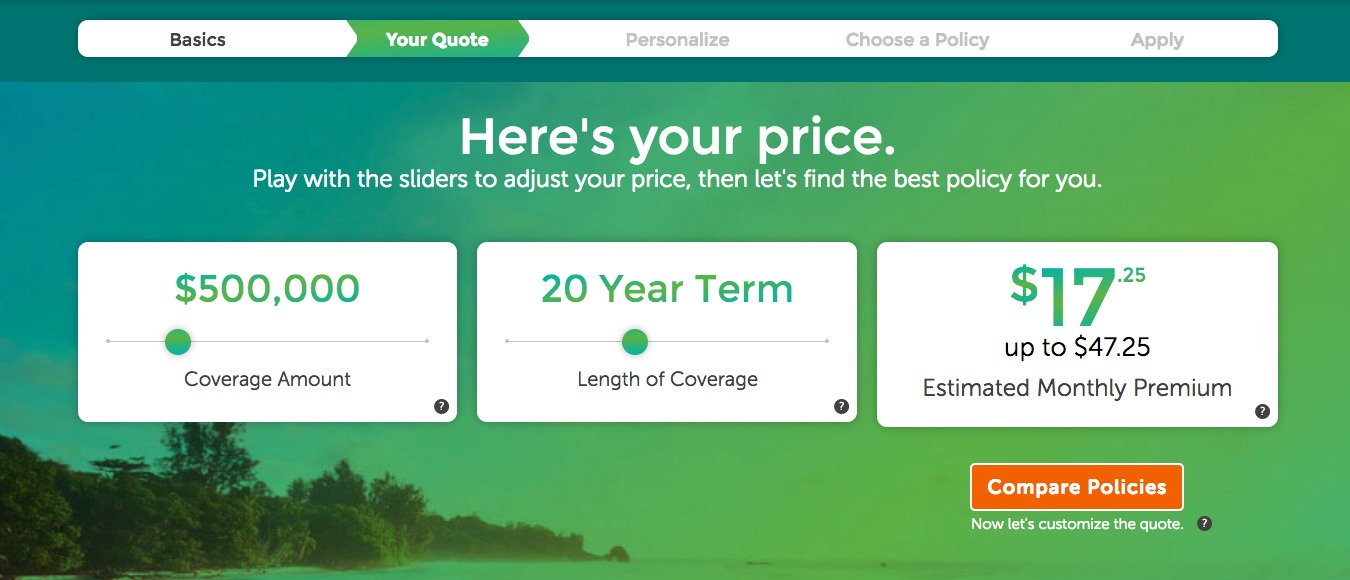 Be sure to play around with the sliders to see how varying your coverage amount and length affects your monthly premium.
Keep in mind, the monthly premium you're seeing here is just an estimate to help you understand how life insurance is priced. By customizing your quote in step 2, you'll see the price you're likely to pay.
For a more accurate quote, move next to step 2.
Step 2: Customize Your Quote
Now that you have a ballpark quote ready to go, your next step is to start customizing so you can create a more accurate picture.
This step gets the price right about two thirds of the time, so it's worth your time to tackle it.
Here, we'll need to know a few more details about you, such as your:
Height/weight. Most people are surprised to learn that this is one of the biggest factors when it comes to life insurance pricing.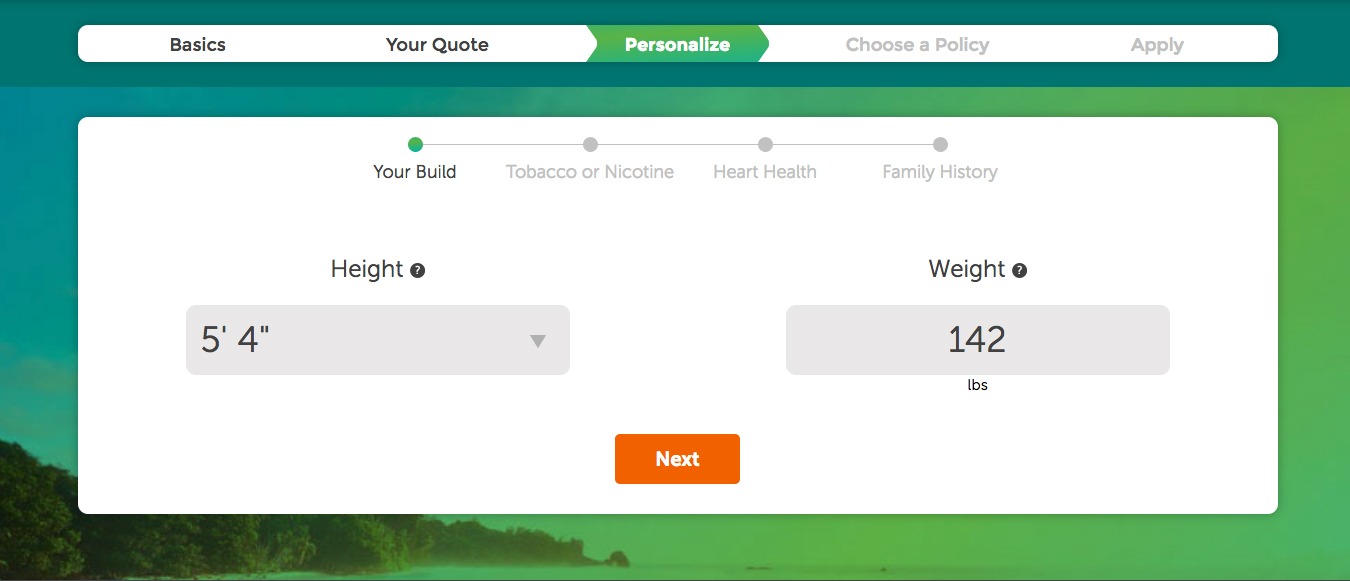 Tobacco use. Cigarette use will cause you to fall under smoking rates, but certain carriers will give non-smoker rates to the occasional cigar, daily Nicorette, pipe, or chewing tobacco user as they may not consider them in the same category.

Heart health. Blood pressure and cholesterol medications are common prescriptions insurance companies take into consideration. Your readings will also matter here too. As long as your condition is under control, some carriers will still give you the best rates even if you take these medications.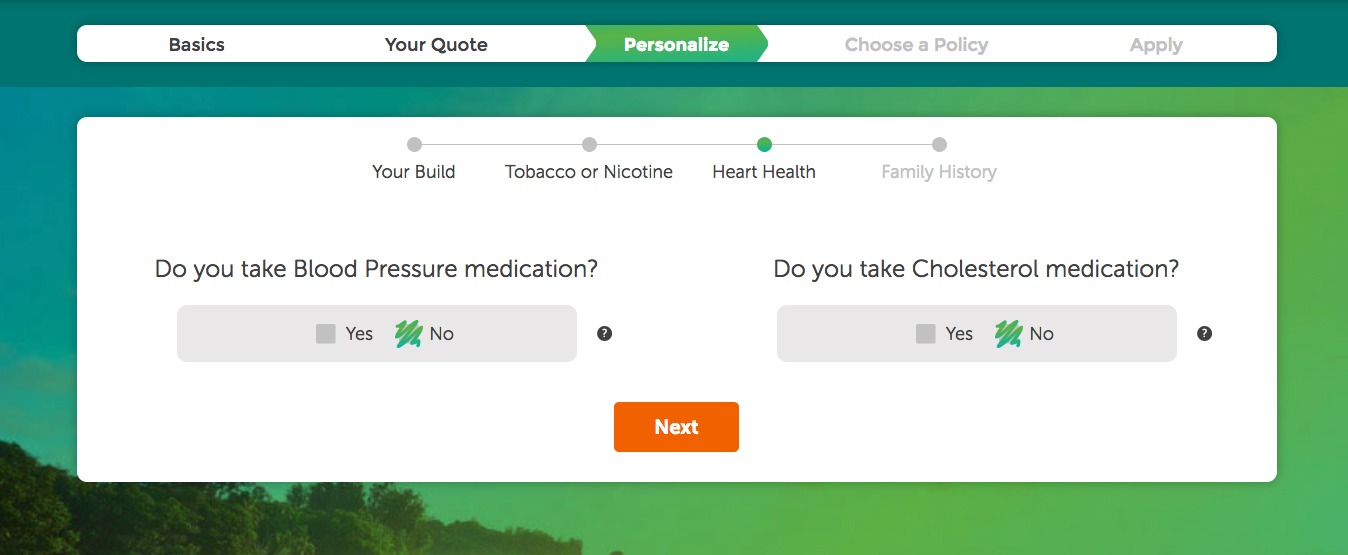 Family history. Are you in perfect health and run marathons for fun? Even if you are a specimen of health, pricing can be adjusted upwards if your parents and/or siblings have died or have been diagnosed with heart disease, diabetes, or cancer when they were younger than age 60.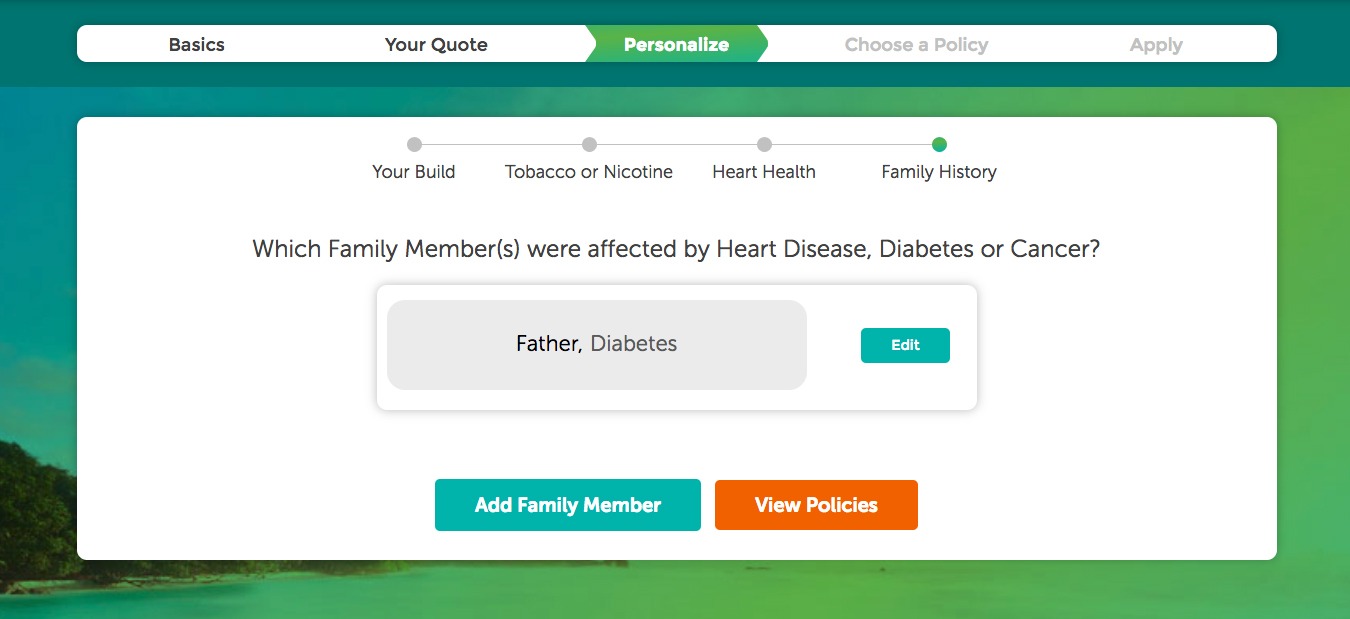 See why it's so important to customize your quote?
Once you enter this information, you can feel confident knowing that the quote you're given is close to the one you'll actually be paying.
Speaking of which, to complete this part of the process, click on the View Policies button and you'll have a list of carriers and coverage options in a few seconds.
But you're not done quite yet.
There's still another round of fine-tuning that we'll take care of.
Some life insurance is better than no insurance. We'll help you get the best priced term life insurance policy to give you and your family peace of mind.
Ready to get your life insurance quote?
You're a few minutes away from great life insurance
How much life insurance do you need?
Figure out your action plan with our needs calculator
Step 3: Complete a Pre-Application to Tailor Your Quote
While these four variables—height/weight, tobacco use, heart health, and family history—are considered first, they're not the only factors under scrutiny.
There are thousands of other variables that can affect the pricing of life insurance.
Because of this, your new quote needs a bit more fine-tuning.
This is the cue for our team to come in.
To help you get the right coverage to meet your needs, our team will advocate on your behalf with the top insurance carriers.
For us to do this to the best of our ability, we need to know a bit more about you.
Enter: The 5-Minute Pre-Application
Spend just five minutes of your time completing a health and lifestyle questionnaire and we'll find policy options that are right for you.
Note: You will need to submit your contact information for us to review your pre-application.
Here's why we need your contact info: Our team has many tools, underwriting manuals, and highly-qualified underwriters to look over your answers. The more details you can provide, the better our analysis and guidance.
In some instances, blood work comes back that negatively affects pricing, or your doctor asked you to undergo a sleep study that hasn't been completed yet, etc.
We're sensitive to your price points and if the insurance carrier has underwritten you to a price higher than originally predicted, don't sweat it.
You can adjust the amount of insurance you're buying or the length of the coverage to fit within your budget.
We believe that some insurance is better than none.
Now that you know the sort of information used to determine term life insurance quotes, you may be worried about finding an affordable policy if you:
Rest assured: There most likely is a life insurance policy for you.
It's our job to find you the right carrier with the best price before you apply for coverage.
Our team is comprised of insurance experts who pride themselves on getting you the right coverage at the best price.
All we need from you is the data to do a complete workup.
Most insurance companies request all of your medical records anyway so it's in your best interest to share your medical and lifestyle history with us so that we can properly underwrite you before the insurance carrier does.
» Learn more: What Is Life Insurance Underwriting?
By tackling this process on the front end, you'll save time and headaches.
There's no point in going through a medical exam if you haven't first identified the right company.
So just submit your completed pre-application and we'll spend our time finding a list of insurance carriers for you.
We'll take all of your answers and analyze them using our expertise before we start the formal application process with one specific carrier.
Then we'll be there every step of the way so you easily get covered as soon as possible.
» Compare: Term life insurance quotes
Photo by Kyle Popineau on Unsplash
Related Posts:
I Completed My Pre-Application: What Happens Next?
How Much Does It Cost to Apply for Life Insurance?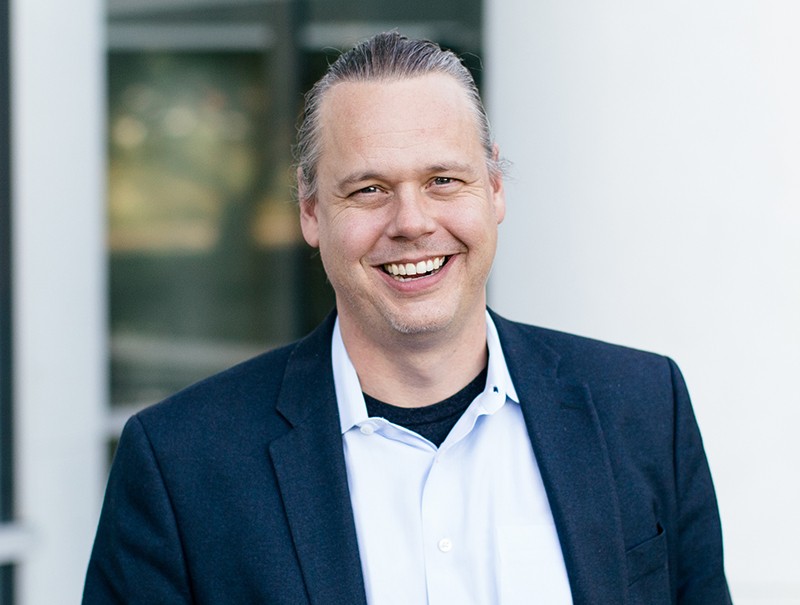 Jeremy Hallett
Co-Founder and CEO of Quotacy, Inc.
Jeremy is co-founder and CEO of Quotacy, Inc., a direct-to-consumer digital life insurance agency headquartered in Minneapolis. The company's mission is to help everyone who has loved ones—who depend on them financially—to own a life insurance policy. Mr. Hallett is also CEO of Hallett Financial Group, Inc., a brokerage general agency (BGA) that distributes life insurance, annuities, disability, and long term care products. Hallett Financial has been serving over 2000 insurance agents and financial advisors since 1990. Jeremy's partnerships—across technology, insurance, and finance—stem from his willingness to spark innovation and his curiosity about what's possible in life and business. Playing sax and meditating daily keep him happy and humble.