Are you looking for a term life insurance quote? Tired of having to give away your personal contact information just to get one?
Though many sites force you to enter your name and other private details before giving you an accurate quote, they never deliver. Your contact information is captured and distributed to whichever agents receive the leads from that online funnel. You may receive a call in a few days or weeks after your initial request—if you're contacted at all—yet you still won't have a real quote.
Finding term life insurance quotes doesn't have to be this frustrating. Fortunately, there's a better way. You can get an anonymous online life insurance quote today—and we'll show you how in this free guide. Or just skip the walkthrough and go directly to our quoting tool: Term life insurance quotes.
Quotacy's process is easy, simple to understand, and can be completed entirely online from the comfort of your own home. You'll have complete control without ever having to deal with a pushy salesperson.
Since Quotacy agents don't work on commission, the quotes you receive are in your best interest, not ours. We will never push you to buy more life insurance coverage than you need.
If you're ready to get started, check out step 1.
Step 1: Find a Price That Fits Your Budget & Coverage Needs
You don't need to hand over your email address, name, or phone number to get a term life insurance quote.
Run as many life insurance quotes as you like. Looking for life insurance for your spouse or partner? Run life insurance quotes on them too. You'll be able to see an estimate of how much life insurance protection may cost.
Here's what we need to know specifically:
Your zip code. Insurance options vary by state so we'll need to know which city you live in to give you an accurate price quote (we do not need your full address at this stage).
Your gender. Since women live longer than men (sorry, it's a fact!), their coverage is actually cheaper.
Do you smoke? It's no surprise that smoking affects longevity. If you're a smoker, expect to pay more for coverage.
Your date of birth. How old you are determines your price and the products available.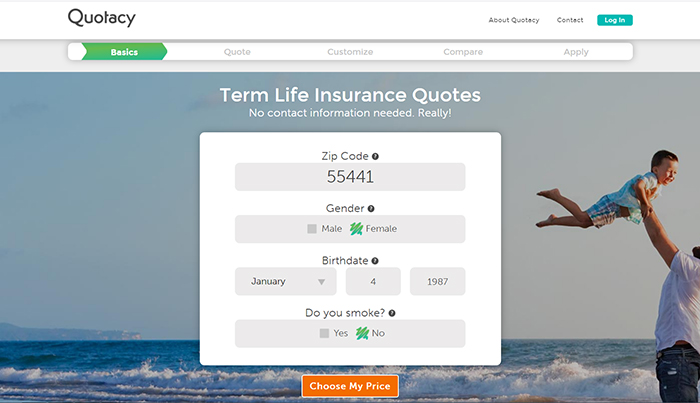 Once you enter this information, you'll be shown our super easy-to-use pricing slider. This scale gives you the ability to see the cost range from lowest to highest for policies. Simply move the coverage amount and length of coverage sliders to see how the pricing varies when you change each one.
In the example screenshot below, the coverage life insurance quote of $28.23 is for a 32-year-old, non-smoking female living in 55441. This price includes a coverage amount of $500,000 for a period of 30 years.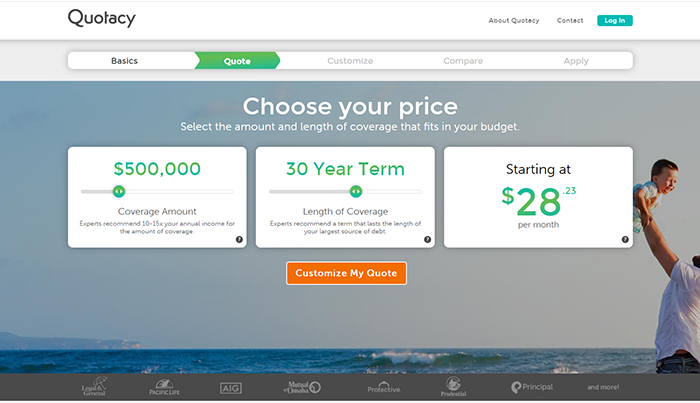 Term life insurance is very customizable and can fit into most budgets. To reduce the monthly payment, this customer can lower her coverage amount to $250,000 to drop her life insurance quote to $17.36 per month.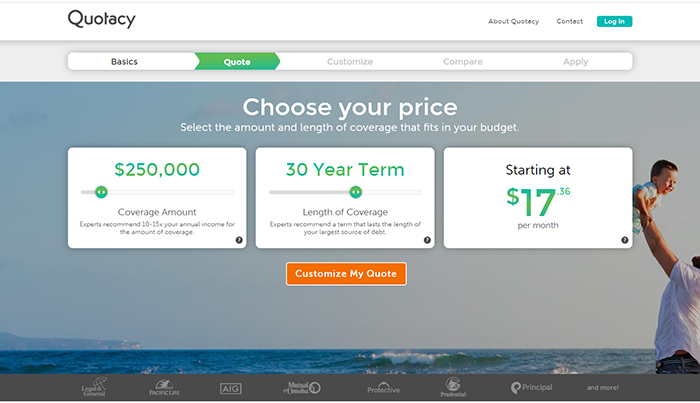 Or instead she can opt to decrease the term length to lower the life insurance quote. Lowering the coverage length from 30 to 20 years which also lowers the life insurance quote from $28.23 to $17.40.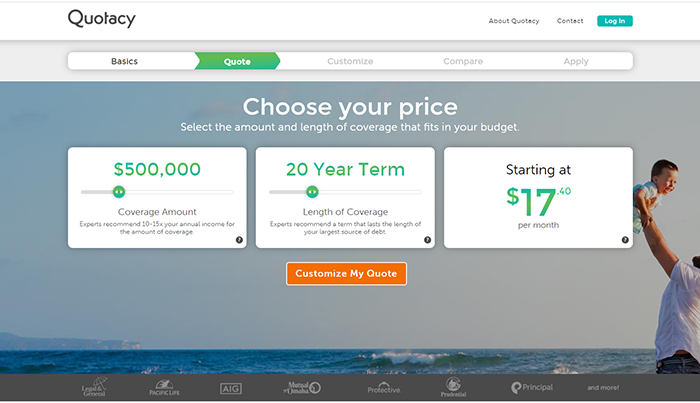 Be sure to play around with the sliders to see how varying your coverage amount and length affects your monthly premium.
Keep moving through the quoting tool to refine your quote. The accuracy of your quote depends on the information you share. Don't worry, we still don't need your contact information.
Step 2: Customize Your Quote
Now that you have a ballpark quote ready to go, your next step is to start customizing so you can create a more accurate picture.
This step gets your final life insurance price correct about two thirds of the time, so it's worth your time to tackle it.
Here, we'll need to know a few more details about you (or whomever you're applying for life insurance on), such as your:
Height and weight. Most people are surprised to learn that this is one of the biggest factors when it comes to life insurance pricing.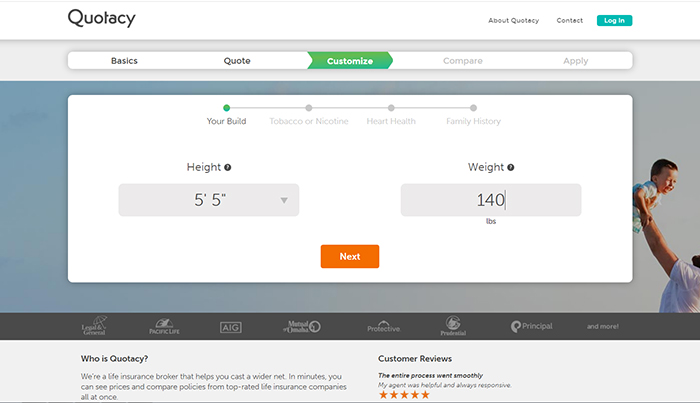 Tobacco use. Cigarette use will cause you to fall under smoking rates, but certain carriers will give non-smoker rates to the occasional cigar, daily Nicorette, pipe, or chewing tobacco user as they may not consider them in the same category.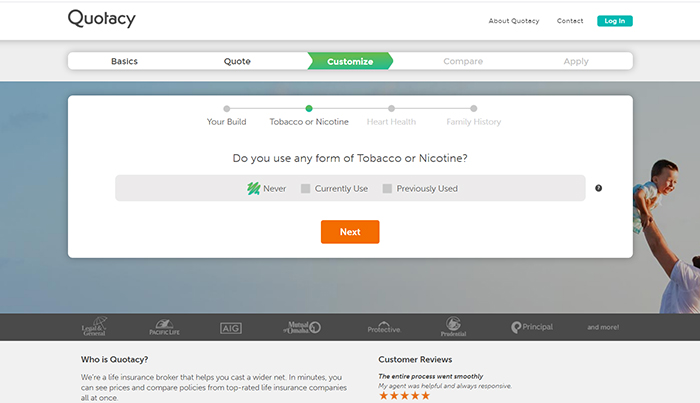 Heart health. Blood pressure and cholesterol medications are common prescriptions insurance companies take into consideration. Your readings will also matter here too. As long as your condition is under control, some carriers will still give you the best rates even if you take these medications.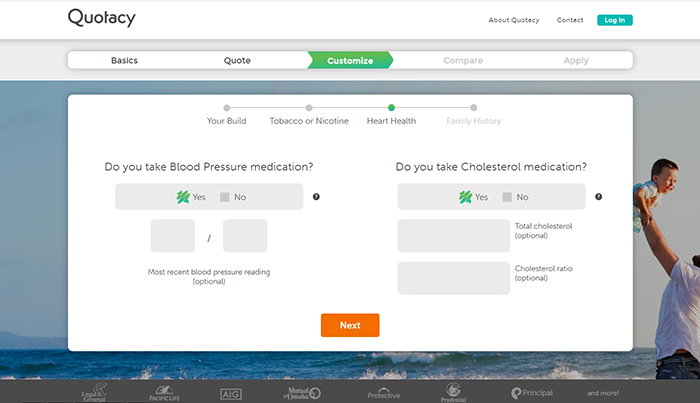 Family history. Are you in perfect health and run marathons for fun? Even if you are a specimen of health, pricing can be adjusted upwards if your parents and/or siblings have died or have been diagnosed with heart disease, diabetes, or cancer when they were younger than age 60.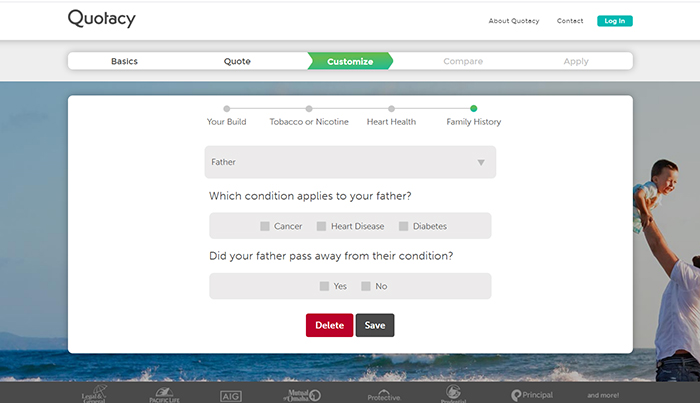 Once you enter this information, you can feel confident knowing that the quote you're given is close to the one you'll actually be paying. Many online life insurance agencies will only show pricing for those in the best health. This isn't always realistic. While we can't factor every single risk factor into our quoting tool, we want to set realistic expectations upfront.
Continue on to view your list of life insurance companies and coverage options.
See what you'd pay for life insurance
Comparison shop prices on custom coverage amounts from the nation's top carriers with Quotacy.
Step 3: Complete Your Online Application to Get the Best Price
While these four variables—height/weight, tobacco use, heart health, and family history—are considered first, they're not the only factors under scrutiny. There are thousands of other variables that can affect the pricing of life insurance. Because of this, your new quote needs a bit more fine-tuning. This is the cue for our team to come in. To help you get the right coverage to meet your needs, our team will advocate on your behalf with the top insurance companies. For us to do this to the best of our ability, we need to know a bit more about you.
Enter: The 5-Minute Online Application
Spend just five minutes of your time completing our online life insurance application and we'll find policy options that are right for you.
Note: You will need to submit your contact information when you send in your online life insurance application.
Our team has many tools, underwriting manuals, and highly-qualified underwriters to look over your application. The more details you can provide, the better our analysis and guidance.
We often refer to your online application as a "pre-application" since we review it before submitting it to the life insurance company of choice. As you go through the Quotacy life insurance tool, you will choose a life insurance company to apply to. But after all is said and done, this might not be the best company for you.
Some life insurance companies evaluate certain risk factors differently. For example, a history of depression may increase your life insurance premium at one company, but not another. Your dedicated Quotacy agent will review your online application to make sure the insurance company you chose is a good match for you.
There are many factors the insurance companies review when someone applies for life insurance. You may be worried about finding an affordable policy if you:
But rest assured: There most likely is a life insurance policy for you.
It's our job to find you the right life insurance company with the best price before you officially apply for the coverage.
Our Quotacy team is comprised of insurance experts who pride themselves on getting you the right coverage at the best price. We need your health and lifestyle information so that we can properly underwrite you before the insurance carrier does. By tackling this process on the front end, you'll save time and headaches. There's no point in going through a medical exam if you haven't first identified the right company.
» Learn more: What Is Life Insurance Underwriting?
So just submit your completed online application and before sending in the official application to the life insurance company of choice, we'll work behind the scenes to make sure you're paired with the company that will offer the best price.
Based on the information you provide us on your application, if there is a better life insurance company option for you, your agent will reach out and explain your options. If completely up to you if you want to switch life insurance companies. If you do, we'll do the work on switching the companies on our end and send your official application in. Then we'll be there every step of the way for any questions and to keep you updated as your application moves through the process.
We're sensitive to your price points. If your final price offering from the life insurance company is a price higher than originally predicted, don't worry. You can adjust the amount of insurance you're buying or the length of the coverage to fit within your budget. We believe that some insurance is better than none. Curious? Run a term life insurance quote to see an estimate of how little life insurance may cost you.