I surveyed our Quotacy team and put together our top tips for staying on your diet game during the holidays. Of course we all want to enjoy and savor the holiday season, but some of us would rather not live in our leggings because our skinny jeans became our super skinny jeans. Let's chat about healthy eating.
What I discovered during our office survey is that nearly half of our office is all in when it comes to the holidays. They spare no mashed potatoes or wine when it comes to enjoyment. I can't say I'm completely shocked; I used to be okay with filling my plate with all the helpings because it's the season of indulging. As I've aged just a bit, I've become more mindful of my habits and so has a portion of our team, so let's check out what they had to say.
Eat only what you love
Don't feel the need to eat every single thing. If you love mashed potatoes, get after them. But, maybe skip the stuffing. If you love dessert, split a piece of pie with someone and you won't feel like you missed out on your favorites. Just because grandma made her famous lutefisk doesn't mean you have to please her by eating it.
Put your workouts into high gear
If you know you are going to be eating more, make sure to move more. Whether you add a few more sweat sessions to your current regimen or just implement more steps into your day, you will counteract some of those extra calories you plan on consuming. Don't work out? Take the stairs, park in the far parking space, go for a quick walk on your lunch hour. It's pretty easy to make these additions.
It is okay to enjoy food, drinks, friends, and family. Don't let your choices stress you out. Stress is worse than a cookie.
Ready to get your life insurance quote?
You're a few minutes away from great life insurance
How much life insurance do you need?
Figure out your action plan with our needs calculator
Eat smaller portions
Are you one of those people that want to sample everything? Just be mindful of making the portions small so you don't feel like a busted can of biscuits after dinner. It also helps to drink a big glass of water prior to dinner so that you have that "buffer" in your stomach to hold you back just a bit.
Don't make eye contact with the cookies at the office
We have one of those offices that turns into a holiday treat buffet after Thanksgiving. It's the season of giving and we happen to be on the receiving end of candy, truffles, cookies, nuts, and all the amazing things that you want to put in your mouth. When you receive the email that alerts you about all the treats up for grabs, don't get up from desk and run to the grab the good ones before they're gone. Wait it out and hopefully there will be only walnuts left for you to nibble on. Or just don't make eye contact with the sweets as you stroll on by.
Walk after a big dinner
Going for a quick walk after a feast will reduce the chances of the dreaded food coma. We all know that feeling after you've over indulged — you want to unbutton the pants and just lay on the couch. Before long, the family gathering has turned into a one way ticket to snore fest. So, go for a 15 minute walk, get your digestion going, and keep your energy from tanking.
Avoid wearing your stretchy pants to a holiday gathering
You can't wear your Lululemon leggings to Friendsgiving and expect to not overeat. Wearing those three-way stretch pants are a welcome wagon to an all-day buffet. Yes, they are comfortable, but they just keep stretching as you keep eating and drinking. Wear something that requires a zip, button, or a belt, it's like an alarm system and will alert you when you need to put the eggnog down. No one likes that over full feeling.
Eat your protein before the party
If you are invited to an evening event and think the best thing to do is to not eat all day in order to "save" yourself, you will most likely end up starving and binging. Eat your protein early and drink lots of water. Chances are the party will be filled with plenty of carb and fat heavy foods, so eat lean during the day and just be mindful of your choices in the evening.
1:1 alcohol vs. water
For every cocktail you enjoy, drink a glass of water equal to the ounces of the cocktail or alcoholic beverage you consumed. This not only helps with staying hydrated and possibly drinking less alcohol, but you just might feel a little better the next day. Or, if you are feeling pressure to drink, but aren't into it, get a club soda and throw a lime in it. It will appear as though you have a cocktail, but it's really a mocktail.
Lastly, remember it is the holidays
It is okay to enjoy food, drinks, friends, and family. Don't let your choices stress you out. Stress is worse than a cookie. If you do happen to overindulge, it's okay. Just get back into your healthy eating habits the next day.
It's not rocket science when it comes to being more mindful and making healthier choices, but we hope these tips help you have a happier, healthier holiday season.
Photo credit to: Toa Heftiba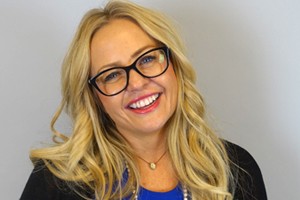 Jeanna Simonson
Marketing Content and Social Media
Jeanna has a passion for letting her creativity shine. At Quotacy she manages social media, is a co-host of Quotacy's Q&A Friday YouTube channel, and enjoys writing here and there. When she's not at the office, you can find her hanging with her husband and rescue animals, brunching with girlfriends, or loving up on her nieces and nephews. Connect with her on LinkedIn.