Being based in Minneapolis, it's almost a requirement that we know how to make the most of the winter season.  Many folks around here joke about the big blizzard of '91.  In reality, winters here are no joke.  We get snow and we get a lot of it.  It's easy to want to hibernate for three months, but what's the fun of that? Let's talk how we embrace winter 
If you want to seize the deep freeze you can take part in skiing, ice skating, building a snowman, sledding, ice fishing or enjoy a horse-drawn carriage ride through Downtown Minneapolis.  And, of course there are days where you feel like you are living in a jumbo snow globe – those are the days when you sit on the couch with a hot toddy and watch the snow fall.
Most Minnesotans have a love/hate relationship with winter.  The best advice we can give is to get out and try something new.
Ready to get your life insurance quote?
You're a few minutes away from great life insurance
How much life insurance do you need?
Figure out your action plan with our needs calculator
Here are a few ways the Quotacy team enjoys the season:
Natasha (Marketing Content and Social Media Manager)
"When I'm not face-planting on my snowboard (still learning!) what I really enjoy doing during the winter is sitting in front of a fireplace with my boyfriend cuddled under a blanket with cocoa in hand surrounded by our furkids watching a Christmas movie.  Home Alone?  Yes please!  A Muppets Christmas Carol? YAY!  Now if I could just convince him to stay awake through Love Actually…"
Jeanna (Social Media Coordinator)
"I love the very first snowfall of the season.  My dog and I run, play and make snow angels (okay, maybe I do that while my dog stares at me) in the fresh powder.  After a few snowfalls my husband and I hit up the trails for some snowshoeing.  What I love doing during the holidays is taking a drive through nearby neighborhoods admiring all the holiday lights.  Lastly, a weekend getaway to a cozy cabin up north is always a good idea."
Jason (Vice President of Operations and Sales)
"Growing up in Minnesota, winter and hockey go hand in hand.  In almost 4 decades living here not a winter has gone by that I haven't been asked to play a few games of pick-up hockey with friends.  Even still, on any given day of the week I'll get a call saying (not asking) 'Get your stuff ready and meet us on the lake in 15.  Game on.'  I made the mistake of not showing up once and was later sent a picture of everyone who did go holding up their fingers on their foreheads in the shape of an "L" with the caption 'Jason is a…'  I've never missed a game since!"
Renee (Licensed Agent)
"My favorite things to do in winter include: hot tubbing, drinking spiked coffee or cocoa to stay warm, online shopping, baking and eating comfort foods, planning elaborate fictitious tropical vacations and not having to shave my legs."
Most Minnesotans have a love/hate relationship with winter.  The best advice we can give is to get out and try something new.  If you haven't tried cross-country skiing, give it a shot.  If you haven't enjoyed the nation's oldest and largest winter festival, the Saint Paul Winter Carnival, maybe it's time to check it out.  It doesn't matter where you live, get out and enjoy life.  You never know, maybe you'll stumble upon a new passion or calling.
Photo credit to: Wisconsin Department of Natural Resources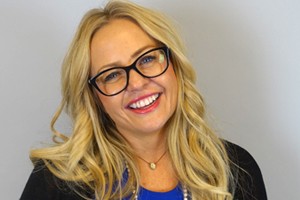 Jeanna Simonson
Marketing Content and Social Media
Jeanna is a writer and the Ambassador of Buzz at Quotacy. She has been researching and writing educational articles on the importance of life insurance since 2015. When not writing for Quotacy, you can find her scoping out the newest fitness and beauty trends for her own blog, Fiercely Fetching, or traveling and spending time with her husband and fur babies. Connect with her on LinkedIn.