Where you buy life insurance can make quite the difference in what you end up paying. You can go directly through an insurance company, you can buy from an independent agent that works with a specific insurance company, or you can buy through a broker that has contracts with multiple different insurance companies.
As with many consumer goods and services, it pays to shop around first. Unfortunately, this takes time. Time you may not have.
To save time, you may just go with the first company that pulls at your heart-strings through a TV commercial. If you go this route, you may be paying too much.
Why?
There are a multitude of financially-strong and highly-rated companies to choose from—but not all of these insurance companies underwrite medical and life risk factors in the same way. In layman's terms, one company may ding you for having a history of depression and another may not. One company may ding you for enjoying SCUBA diving and another may not. One company may ding you for having a nonimmigrant Visa and another may not. There are many different scenarios like this.
In the world of life insurance, every individual applicant is assigned a risk class. Essentially defining how risky this person is for the company to insure. The riskier you are, the higher your premiums will be.
If you don't shop around, you may end up with a company that underwrites you as a higher risk than another company would. This is where Quotacy shines. Your Quotacy agent will do the shopping for you.
Here's how to start the life insurance buying process.
Step One: Get Life Insurance Quotes
Many places selling life insurance want your contact information before they're willing to give you any quotes. This is so they can call and email you to sell products. Or it's because they'll make some money selling your information to their partners.
You don't have to give up your contact information to get quotes through Quotacy. We want to make it easy for you to buy life insurance and empowering you to see real estimates instantly is the first step.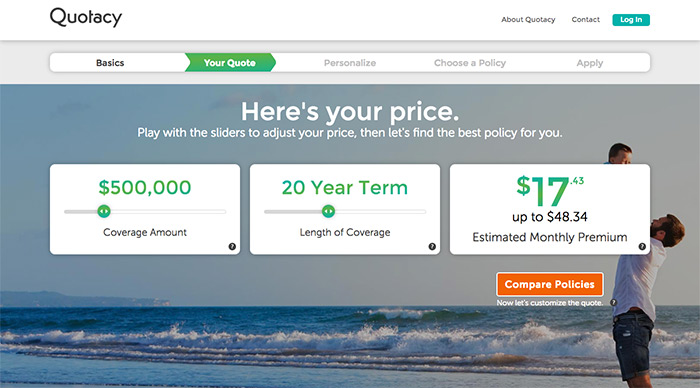 The only information we ask for before your quotes are shown is your birthdate, gender, and zip code.
As with many consumer goods and services, it pays to shop around first.
Ready to get your life insurance quote?
You're a few minutes away from great life insurance
How much life insurance do you need?
Figure out your action plan with our needs calculator
Step Two: Choose a Company
After customizing your initial quote with information such as your height and weight and smoking status, you are shown all the options available to you. As a broker, we have contracts with multiple life insurance companies. The image below is showing only a handful of our carriers.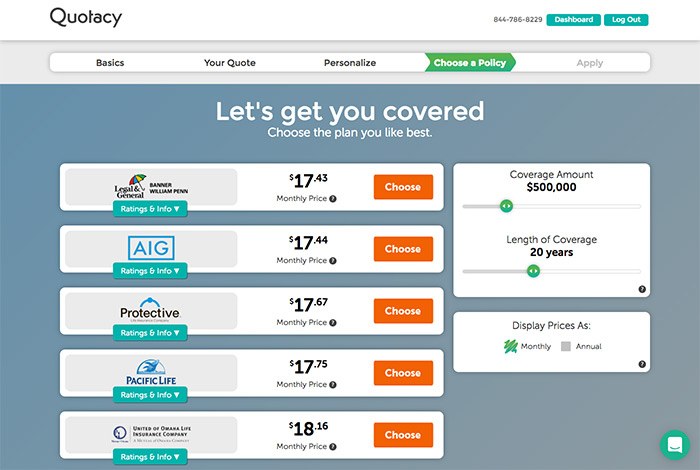 We offer lots of information about each of these companies on this page if you wish to learn more. However, most people just choose the least expensive option. And this is just fine!
Quotacy only works with the nation's most top-rated life insurance companies. No matter which insurance company you end up with, rest assured you'll own a solid life insurance policy.
After reviewing your options and choosing a company, it's time to complete your online application. This only takes a few minutes.
You'll be asked specific questions pertaining to your health and lifestyle. It's important to give details when necessary because this is how your agent helps ensure you're matched with the best company for you.
When you submit your online application, your Quotacy agent reviews it before it's sent off to the insurance company. As mentioned earlier, not all insurance companies underwrite the same way. If something in your application sticks out to your agent as a risk factor your chosen company may not underwrite favorably, they'll shop the market before officially submitting your application.
If there is a different insurance company better suited to you, your agent will inform you of your options. It's your choice whether you want to switch companies or stick with your original pick.
If you apply directly through an insurance company, this insurance company won't shop the market for you. If you apply through a captive insurance agent, they can only offer you products from the insurance company they work for. They won't shop the market for you.
The best way to buy an affordable life insurance policy that is best suited to you is to apply through Quotacy.
Buying life insurance protects your loved ones from financial struggle should you die unexpectedly. Quotacy is here to help you through the process and make sure you get a life insurance policy that best fits your needs and lifestyle.
Note: Life insurance quotes used in this article accurate as of November 9, 2020. These are only estimates and your life insurance costs may be higher or lower.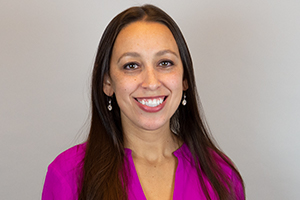 Natasha Cornelius, CLU
Senior Editor and Life Insurance Expert
Natasha Cornelius, CLU, is a writer, editor, and life insurance researcher for Quotacy.com where her goal is to make life insurance more transparent and easier to understand. She has been in the life insurance industry since 2010 and has been writing about life insurance since 2014. Natasha earned her Chartered Life Underwriter designation in 2022. She is also co-host of Quotacy's YouTube series. Connect with her on LinkedIn.