When you shop for life insurance through Quotacy, you have access to the country's top-rated life insurance companies. Is Banner Life (Legal & General America) the right term life insurance company for you? In this video, we review Banner to help you make an informed buying decision.
Video Transcript
Hey everyone we're Jeanna and Natasha and we work at Quotacy. Quotacy is an independent life insurance broker. This means we have the ability to sell policies from multiple life insurance companies giving you more options.
Today we're going to give a review of Banner Life, owned by Legal and General, one of the life insurance companies we work with. Legal and General was founded in London in 1836 and in 1983 they purchased a U.S. insurance company that they renamed to Banner Life. Overall, Banner is a great company with an eco-friendly, paperless process that works great.
Quotacy only works with top-rated life insurance companies which means they are rated A or better and Banner is no exception. Being A rated or better means that the company is financially secure, so you won't have to worry about your policy's death benefit not being paid.
To stand out in the competitive life insurance industry, some companies cater to different health or lifestyle niches. Banner is excellent for applicants who are pregnant, stay-at-home parents, or have family health history problems.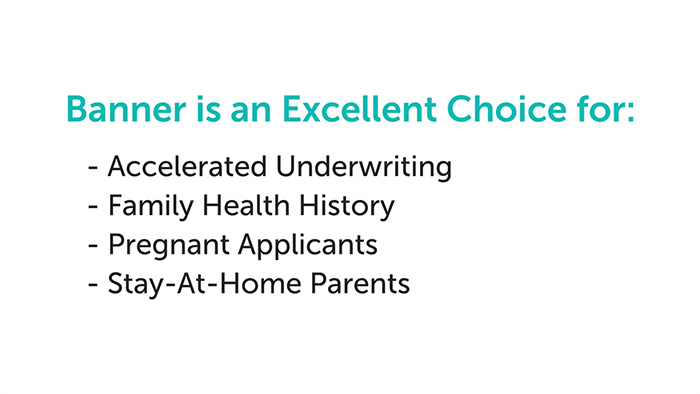 This means that Banner treats these factors more favorably than other insurance companies.
Let's talk about what we like in regards to Banner's life insurance policies and buying process. Banner's level term product is called OP Term and is sold in term amounts of 10, 15, 20, 25, 30, 35, and 40 years*. The smallest amount of term life insurance you can purchase through a Banner Life term policy is $100,000 and this is pretty standard.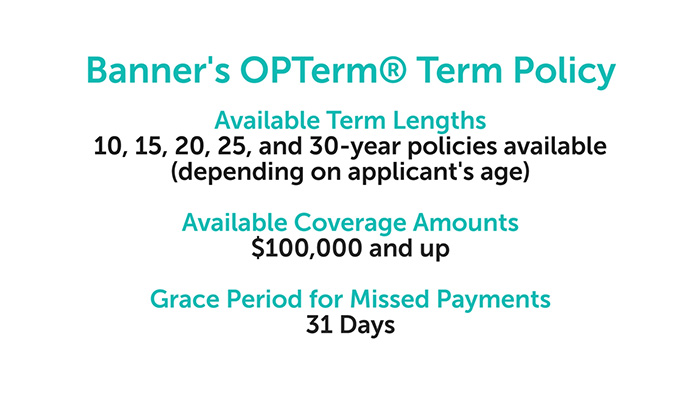 *As of November 2018, Banner now also sells 35-year term and 40-year term policies.
Overall, Banner is a great company with an eco-friendly, paperless process that works great.
Ready to get your life insurance quote?
You're a few minutes away from great life insurance
How much life insurance do you need?
Figure out your action plan with our needs calculator
And depending on the life insurance product, there will be different policy riders available. Life insurance policy riders are additional benefits that you can add onto your policy at the time of purchase. Banner's term policy offers an accelerated death benefit rider, premium waiver for disability rider, and a child rider.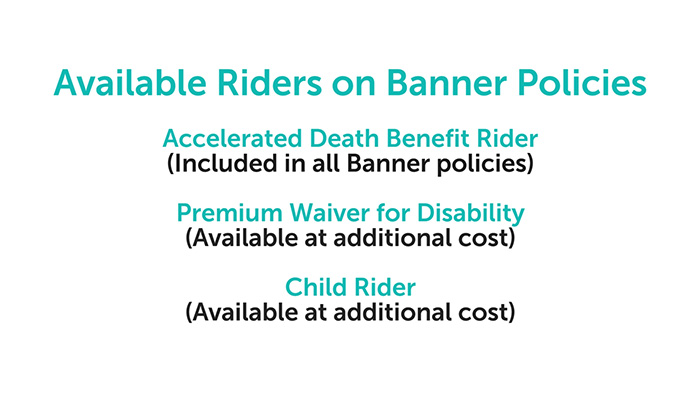 Let's break these down.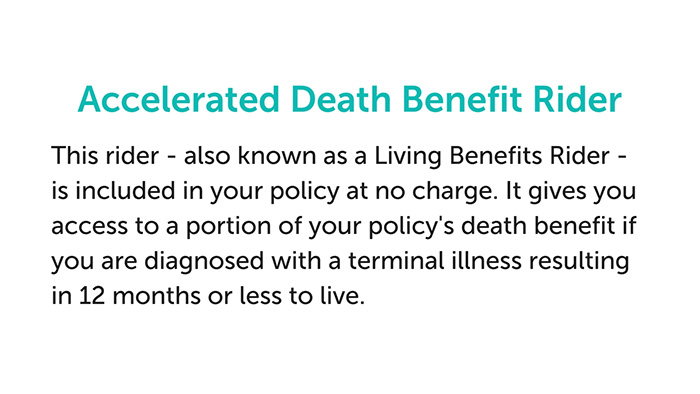 An accelerated death benefit rider is included in Banner term policies at no charge. This rider gives you access to a portion of your policy's death benefit if you are diagnosed with a terminal illness resulting in 12 months or less to live.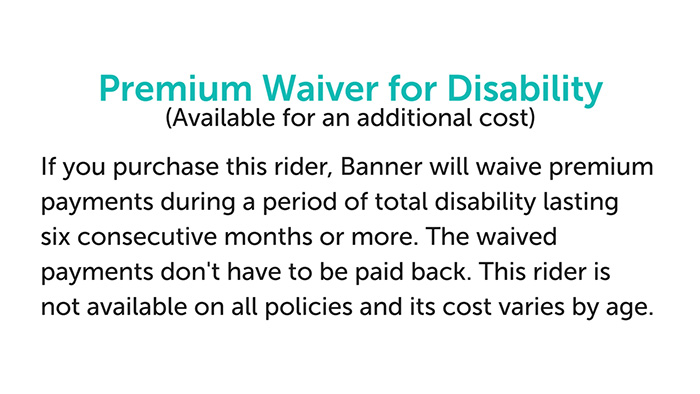 A premium waiver for disability rider is available on Banner term policies for an additional cost. With this rider, Banner will waive your premium payments during a period of total disability lasting six consecutive months or more.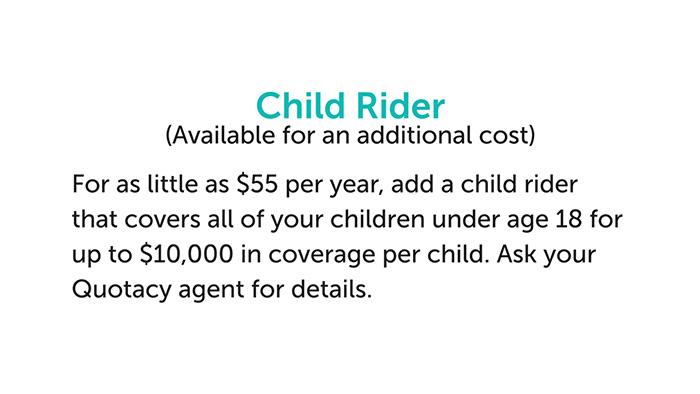 A child rider is available on Banner term policies for an additional cost. For as little as $55 per year, a child rider provides $10,000 of life insurance coverage on all of your children less than 18 years of age. It also would include any future children you may have or adopt.
If you're looking for life insurance, Banner is a good option. If you're pregnant, have family health history issues, or a stay-at-home parent, then Banner is a great option.
When you apply through Quotacy, we'll review your application to double check that you've chosen to apply with a company that will give you the most favorable outcome. The final choice is of course 100% your decision, we simply aim to be completely transparent and make sure you know all of your options.
» Compare: Term life insurance quotes
If you're interested in any of the riders we mentioned, let your Quotacy agent know after you apply. They will let you know the exact cost of any rider you want to purchase and can add it to your policy during the buying process. Quotacy can help you get life insurance from Banner or any other top-rated life insurance companies we work with.
And why should you get life insurance through Quotacy?
Our agents are licensed in all 50 states, and they work on salary, not commission, so we'll never try and upsell you. We work for you, not the insurance companies. You won't pay any extra fees or charges to use our services.
Get a free instant term life insurance quote now from multiple top-rated life insurance companies without giving away any contact information. Bye!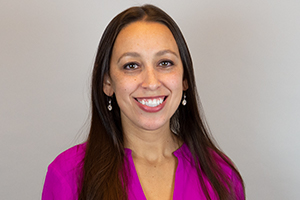 Natasha Cornelius
Writer, Editor, and Co-host of Quotacy's Q&A Fridays
Natasha is the content manager and editor for Quotacy. She has been in the life insurance industry since 2010 and has been making life insurance easier to understand with her writing since 2014. When not at work, she's probably studying and working toward her Chartered Life Underwriter (CLU) designation while throwing a tennis ball for her pitbull mix, Emmett, or curled up on her couch watching Netflix. If it's football season, the Packers game will be on. Connect with her on LinkedIn.