As a parent, the last thing that you may be thinking about is a term life insurance policy for your child as you watch them get married.
That's fair.
However, your children have looked to you for security, advice, and wisdom—and they will continue to do so long after they start their own family.
That's why you, as a parent, are perfectly positioned to start conversations about establishing financial security as you see your children go through major milestones in their life.
Finding the best term life insurance is an important step for new families. But the hard part isn't finding the right term life policy (you can get several life insurance quotes online in minutes at Quotacy), it's starting the conversation.
» Compare: Term life insurance quotes
In this post, you can discover how to bring up the subject (without resorting to a parental lecture or sounding morbid) and the best way to assure that your loved ones have the right coverage.
Making Sense of a Term Life Insurance Policy & Talking About Financial Security
While we don't advise mentioning this during the wedding ceremony, the importance of a term life insurance policy to the future of newlyweds is a conversation that you'll want to have with your child.
It doesn't have to be grim.
Why a term life insurance policy makes sense as your child starts their own family (whether or not that picture includes children of their own) is because it's a positive step toward a solid financial future. They won't have to worry about their spouse's security if the unthinkable should happen: their home, vehicles, and ongoing expenses can be taken care of.
Here are a few other bite-sized talking points to cover when telling your child what term life insurance is:
A term life insurance policy can take care of student loan debt. If your child worked hard to get into their dream college, then they might also have private student loan debt that might occasionally keep them up at night. Term life insurance will allow them to rest a little more easily, knowing that their family won't be burdened with their student loans that—if they are privately held and not government-guaranteed—are not dischargeable upon the borrower's death.
Term life insurance can also help your son or daughter take care of unexpected medical bills. It is hard enough to lose a spouse, but having to cover their medical bills after they are gone can layer financial stress on top of grief.
Accidental deaths, serious injuries due to an accident, or the onset of a terminal illness can drain family's savings, leading to financial insecurity. If your son or daughter weren't able to work or were to unexpectedly pass away, a term life insurance policy could pay for costs that were not covered by their health insurance, protecting your son-in-law or daughter-in-law and your grandchildren.
With a term life policy, your loved one and their new family can also have protection from a loss of income due to the onset of a disability that prevents them from working. A disability rider is an optional add-on to a term life insurance policy that provides an income for families based on the face value (coverage amount) of their policy—the amount that they receive is deducted from the death benefit (the amount that the family receives upon the death of the insured).
Another great form of protection is a critical illness rider that can be added to a term life policy.
With a critical illness rider, your son or daughter won't need to worry about their new family's savings if there are medical bills for critical illness care that may exceed how much their health insurance will pay. An amount can be deducted that provides a lump sum to their family, based on the value of the term life insurance policy that was purchased.
See what you'd pay for life insurance
Comparison shop prices on custom coverage amounts from the nation's top carriers with Quotacy.
3 Reasons Why Your Adult Children Shouldn't Wait to Buy a Term Life Insurance Policy
It shouldn't be surprising if your son or daughter hasn't assigned purchasing a life insurance policy to a top priority spot on their busy calendars.
After all, they are likely young, healthy adults with other things on their minds; such as: a potential new home purchase or a baby on the way.
But these are even more good reasons to have extra financial security built into the mix of their evolving lifestyle.
» Learn more: Why You Shouldn't Wait to Buy Life Insurance
There are several other reasons why buying a term life insurance policy is a great idea right now; and one great way to make it virtually effortless by getting life insurance quotes online.
If they protest that they are too young to buy life insurance, here are some responses:
Reason 1: Buying a term life insurance policy now will get you a fantastic deal on excellent coverage.
It makes sense to buy when premiums are much lower when you're younger, and as term life insurance premiums are already affordable, you'll be able to protect your family for a fraction of your monthly coffee budget (or a really tiny fraction, if you're into the fancy Starbucks brews).
How affordable?
Take a look at the following annual term life insurance policy premium quote for a 25-year-old female non-smoker in New York City: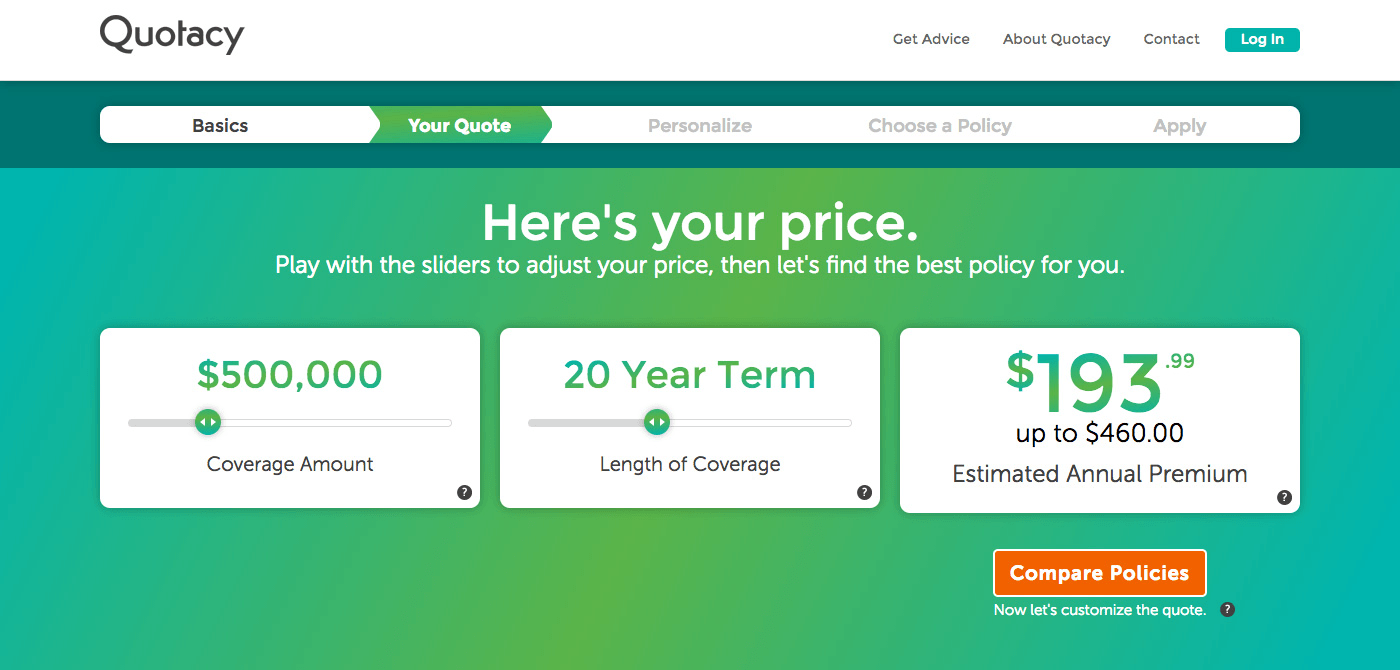 Although guys pay a bit more (sorry!) because they tend to have higher risk of dying than women, they still get a great deal: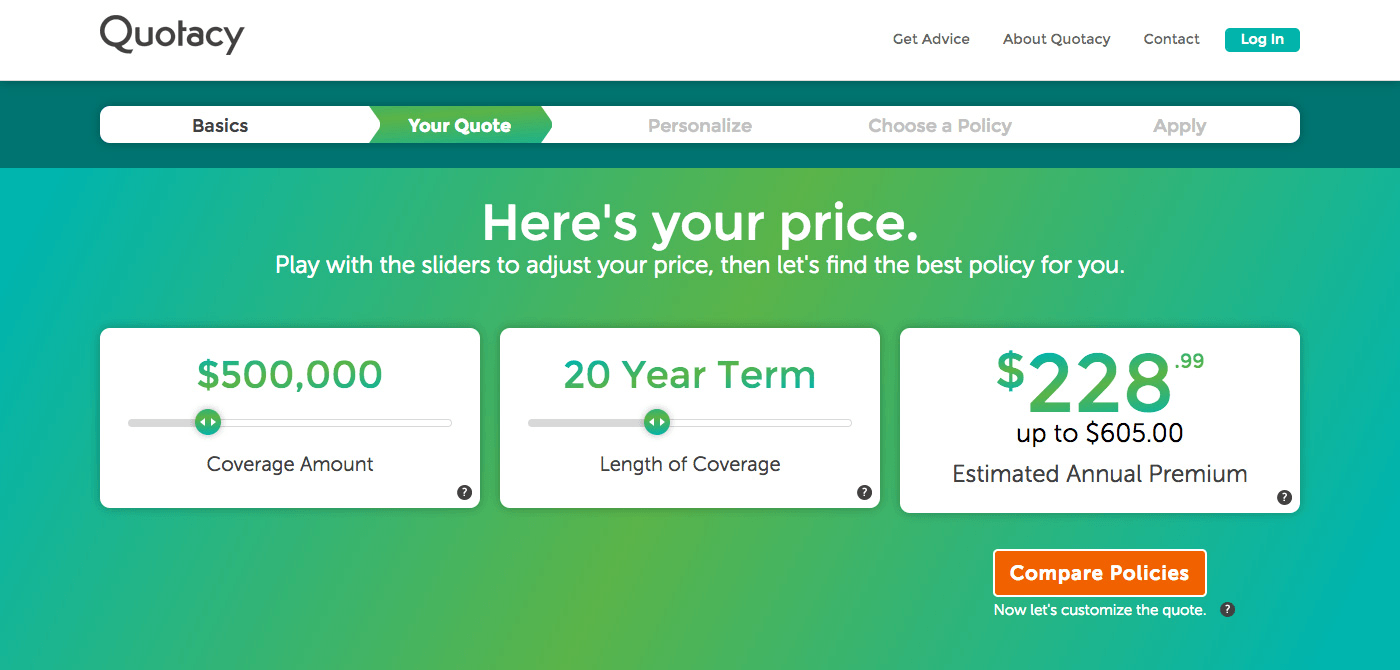 Plus, this also allows you to cash in on your child's youthful bill of health by locking in life insurance rates based on their current health status. That means they won't be denied coverage if they were to become ill in the future.
You can check out some customized rates with our free term life insurance policy quotes tool.
Reason 2: The amount of term life insurance that you purchase can be customized to protect your loved ones at different milestones in your family's life.
If you've just purchased a house, had a child, or started a business—or all three at once—it's wise to have different amounts of coverage to protect your family as your insurance needs change.
A term life insurance policy usually offers coverage for 10, 15, 20, 25, 30, or 35 years, and it's even possible to purchase more than one policy (a practice called laddering) to make sure you always have the right amount of coverage. Laddering your policies also means that you'll lock in the same great rate as you're getting now through the duration of your different policies' terms.
For example, you may want more coverage when your little one heads off to college, and a bit less after they've graduated.
But a term life policy doesn't just serve to cover big expenses like major medical bills. Term life insurance is also designed to replace the loss of your income that your family would experience if you weren't around—allowing them to cover living expenses (such as your mortgage, health insurance, and car payments) and making sure that they are well provided for even if you're gone.
Reason 3: A term life insurance policy covers end-of-life expenses.
Funeral and burial costs can be as much as $10,000, and other expenses that may occur because of your passing—such as hiring an attorney and an accountant to manage the details of your estate—can also be costly.
Plus, these costs are likely to increase over time.
While you are just beginning to build your family and savings, it may be hard to imagine what your life will look like in 10, 20, or 30 years. But you'll likely have worked hard to build up some sort of security and a term life policy can prevent your loved ones from having to take funds from that estate to pay for already difficult tasks such as arranging a funeral.
Even though thinking about burial can be—let's face it—a bit uncomfortable for you and your adult children, it's important to think about these expenses when calculating insurance needs.
And speaking of needs—we've got a great tool that will help you figure out just how much term life insurance will make sense for any family. When you're ready, have your child click over to our life insurance needs calculator to take a look at their options and coverage requirements.
One reason that your son or daughter may hesitate to start looking into selecting a term life policy is that it seems time-consuming and complicated—something that anyone would want to put off.
But that's not the case with Quotacy. Our free tool will let them compare term life insurance quotes online, taking them from policy comparisons to filling out an application in less than five minutes.
With Quotacy, your son or daughter will get a clear, no-nonsense presentation of what each leading term life insurance provider has to offer, and a range of how much their premiums may cost. Our tool will only return quotes results that are relevant to their profile and the coverage amount that they select: meaning they won't have to scroll through the page hunting for the right quote.
Click on over to our term life insurance policy quotes tool to help your loved ones get started on protecting their family with the gift of life insurance.
Quotacy is the country's leading broker for buying life insurance online. We are obsessed with making it easy for everyone who has loved ones who depend upon them to have life insurance.