Many of us equate the New Year to starting new healthy habits or giving up not-so-good habits. Some of us create a goal for the New Year. No matter what's on your New Year's resolutions list already, we want you to consider squeezing in another: get life insurance.
If you don't yet have life insurance, there is no time like the present to start the process.
What does life insurance do?
Life insurance protects your family's financial future from the unexpected.
As a provider, if you suddenly died, your family would be emotionally devastated. But what about their finances? How do they keep a roof over their heads and food on the table? Can they maintain their same standard of living without your income?
Life insurance is designed to replace that lost income. In many cases, there is also an option to get an advance, so to speak, on the death benefit if you were to become terminally ill and need cash to pay for medical expenses or simply use the money to make the most of your remaining time with your loved ones. Learn more about this option here: Accelerated Death Benefit Rider: What It Is and Why It's Free on Most Policies
What will life insurance cost me?
The cost of life insurance differs per individual. A policy's premiums are determined by a number of factors including: gender, age, height/weight, health, and lifestyle habits.
The life insurance company completes a process called underwriting to assign you a risk class. This risk class dictates what your life insurance policy's premiums will be. Risk classes are divided between two general categories: Non-Tobacco and Tobacco.
Within these two categories are subcategories. For the Non-Tobacco risk classes there are Preferred Plus, Preferred, Standard Plus and Standard. The Tobacco risk classes are Preferred Tobacco and Standard Tobacco. The table below shows you how your risk class affects the cost of a life insurance policy.
Male, Age 35, $500,000, 20-Year Term
Risk Class
Monthly Premium
Preferred Plus
$21.67
Preferred
$26.23
Standard Plus
$34.59
Standard
$40.21
Preferred Tobacco
$84.14
Standard Tobacco
$118.14
Your dedicated Quotacy agent will review your online application before submitting it to the life insurance company. When they review it, they will set realistic expectations for you. If there is a chance the insurance company will come back with a final price higher than your initial quote, your agent will give you some options. Your agent will comparison shop all the insurance companies we work with to double-check that you're matched with the one best suited to your circumstances.
See what you'd pay for life insurance
Comparison shop prices on custom coverage amounts from the nation's top carriers with Quotacy.
How can I save money on life insurance?
Saving money on life insurance and your New Year's resolutions go hand-in-hand. Because your life insurance premiums are heavily impacted by your health and smoking status, certain new year goals can help you save money on life insurance.
Common New Year's resolutions include quitting smoking, eating better, and working out more. All of these things lower your mortality risk which potentially means you'd pay less for life insurance. However, don't wait until you accomplish these things to buy life insurance.
Studies have shown that approximately 80% of New Year's resolutions fail. While we have hope that you will accomplish yours, we also don't suggest you delay applying for life insurance.
Get life insurance coverage now so your loved ones don't go unprotected while you work to accomplish your other New Year's resolutions. Later on, you can request a reconsideration from the insurance company. But before an insurance company will consider a rate change, they will want to see that you have sustained the "new you" for a certain period of time.
For example, let's say you want to quit smoking. This and "get life insurance" are your two New Year's resolutions.
Apply for life insurance now. You will receive a Tobacco risk class, but your family will be financially protected should you unexpectedly pass away.
After you have reached at least 12 months of no tobacco use, contact the insurance company directly and request a rate reconsideration. You will need to take another medical exam. The results will help the insurance company confirm your tobacco-free status.
If the insurance company rejects the reconsideration, you also have the option of applying for a brand new life insurance policy. Quotacy can help you apply for a new policy elsewhere. Keep your current policy in the meantime.
Another way to save money on life insurance is to comparison shop. If you buy life insurance through us here at Quotacy, not only are you able to do some quick and easy comparison shopping on your own without even leaving our website, but your agent does a second round of comparison shopping to double-check everything.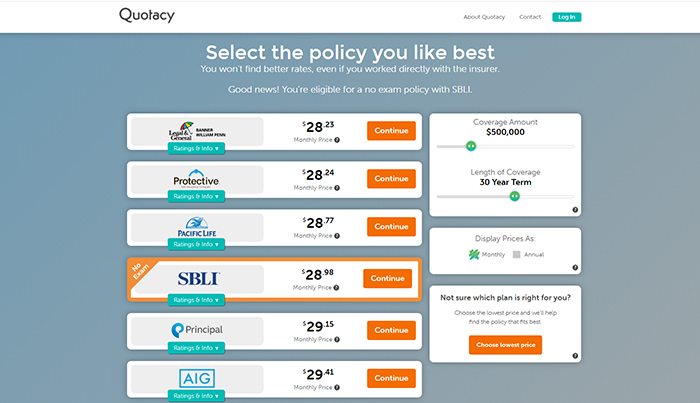 The screenshot is just a sample of the top-rated life insurance companies Quotacy works with. You choose which company you want to apply to.
After you submit your online application, your agent will review your application before officially forwarding it to the chosen insurance company. They review it because not all life insurance companies underwrite risk factors the same.
For example, some carriers are much more lenient with depression and anxiety than others. Some are more flexible with non-U.S. citizens. Some carriers will offer Preferred Plus (the best risk class) to someone who got a DUI 5 years ago while another carrier would only offer Standard.
There are hundreds of situations like this. It's nearly impossible for you to comparison shop these factors, but it's not impossible for your Quotacy agent.
Let us help you check off one of your New Year's Resolutions today! Get the process rolling by getting a term life insurance quote. You can comparison shop on your own time and don't even need to give up any contact information until you're ready to officially apply.
Note: Life insurance quotes used in this article accurate as of December 22, 2020. These are only estimates and your life insurance costs may be higher or lower.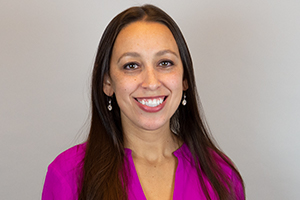 Natasha Cornelius, CLU
Senior Editor and Licensed Life Insurance Expert
Natasha Cornelius, CLU, is a writer, editor, and life insurance researcher for Quotacy.com where her goal is to make life insurance more transparent and easier to understand. She has been in the life insurance industry since 2010 and has been writing about life insurance since 2014. Natasha earned her Chartered Life Underwriter designation in 2022. She is also co-host of Quotacy's YouTube series. Connect with her on LinkedIn.